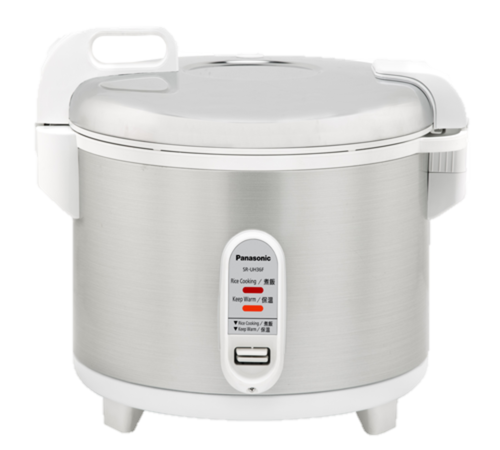 Feature
Uniform Heating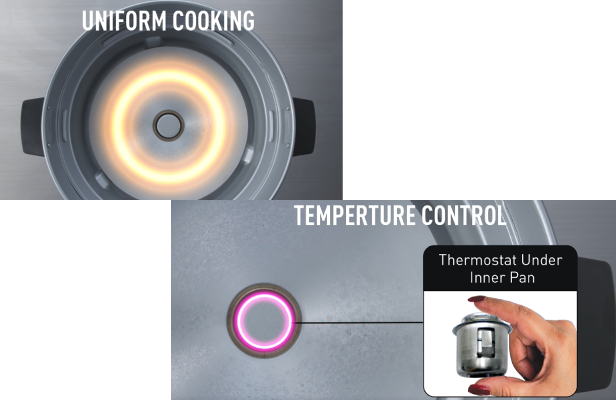 Overlapping heater and precise temperature control ensures uniform heating and excellent cooking result.
Keep Warm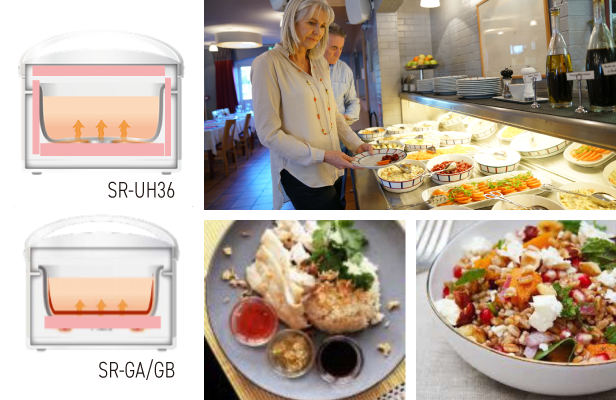 Keep the cooked rice warm for several hours with heater.
Ideal for hot buffets, self-service restaurants, canteens and take away restaurants.
Easy to Use, Easy to Clean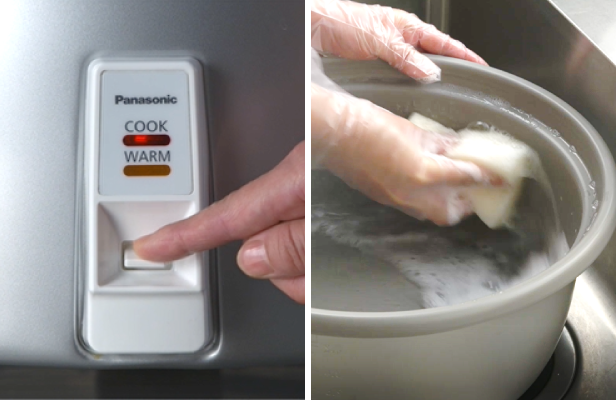 One touch simple operation and easy cleaning with non stick pan.
---
Images
Video & Download
---
Specification
SR-UH36
Size(HxWxD)
Outside
347 x 428 x 384 mm
Required Power
EU/UK
1400-1524W (230-240V)
Australia / New Zealand
1400-1524W (230-240V)
Hong Kong
1400W (220V)
SR-GA321
Size(HxWxD)
Outside
262 x 424 x 367
Required Power
Malaysia
1025W (240V)
Singapore/Philippines
1025W (230V)
Thailand
1025W (220V)

*SR-932 for Thailand

Vietnam
1025W (220V)
Hong Kong
1025W (220V)
SR-GA421
Size(HxWxD)
Outside
289 x 424 x 367
Required Power
US
1550W (120V)
Malaysia
1400W (240V)
Singapore/Philippines
1400W (230V)
Thailand
1400W (220V)

*SR-942 for Thailand

Vietnam
1400W (220V)
Australia / New Zealand
1285-1400W (230-240V)
Hong Kong
1400W (220V)
SR-GB42
| | | |
| --- | --- | --- |
| Size(HxWxD) | Outside | 289 x 424 x 367 mm |
| Required Power | US | 1550W (120V) |
SR-GA541
Size(HxWxD)
Outside
340 x 558 x 466 mm
Required Power
US
1800W (120V)
Australia / New Zealand
1653-1800W(230-240V)
SR-GB54
| | | |
| --- | --- | --- |
| Size(HxWxD) | Outside | 340 x 558 x 466 mm |
| Required Power | US | 1800W (120V) |
SR-GA721
Size(HxWxD)
Outside
366 x 558 x 466 mm
Required Power
EU
2400-2610W (230-240V)
US
2235W (208V)
Canada
2235W (208V)
Malaysia
2500W (240V)
Singapore/Philippines
2500W (230V)
Thailand
2500W (220V)

*SR-972 for Thailand

Vietnam
2500W (220V)
Australia / New Zealand
2296-2500W(230-240V)
Hong Kong
2500W (220V)
SR-GB72
| | | |
| --- | --- | --- |
| Size(HxWxD) | Outside | 366 x 558 x 466 mm |
| Required Power | US | 2235W (208V) |